Action Dancewear is an active wear boutique conveniently located on historic Main Street in Oshkosh Wisconsin. They furnish apparel to dancers, skaters, gymnasts, and aerobic and workout enthusiasts.
After successfully operating on popular University Avenue in Madison Wisconsin for over three years, Action Dancewear relocated to its current Oshkosh location in the spring of 1997.
Catering to all gender and sizes, they offer high-quality clothing that is hand-selected from only top-quality manufacturers. Each article of clothing is chosen for it's quality, fashion, and "energy portrayal".
Believing in top customer service and an atmosphere of excitement, Action Dancewear brings to its customers qualified hands-on care for individual activewear needs. Added to that are selections that make you want to.......
DRESS ENERGIZED!
Heading up Action Dancewear is Kathy. Kathy is an Oshkosh native whose entrepreneurial spirit and appreciation for the arts and her community, motivated her to surround herself with what she loves.
Kathy states, "When people ask me what I do for a living I tell them that, I dress artists. If you could see what I see, you'd understand why I love my job--children preparing for their first recital, pageant contestants getting ready to perform on stage, skaters devising costumes from scratch,-- everyone has a heartwarming story. My job is simple:
One: Strive for perfection customer service,
Two: Partner only with the best manufactures and teach them about my customers' needs,
Three: Make sure that miracles do happen."

This is Kathy with her daughter, Randi (now 17). Randi currently enjoys Tap, Jazz, Ballet, Lyrical and Hard Shoe Irish.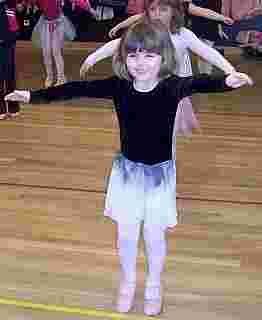 Her other daughter Franki is 9 and is in her seventh year of dance. Franki practices Tap, Ballet and Jazz.
Kathy's husband (not shown), spends most of his time patching dents and scratches in the floors of their home.

This is Kathy on the road attending a skating performance. As well as working hands-on with her boutique customers, and providing activewear advice and services via the Internet, Kathy travels several times a year--visiting dance, skating, and fitness performances. Maybe Kathy will be in your town soon. For activewear advice, email Kathy: Kathy@e-dancewear.com