Action Dancewear - Dance Team Apparel
---
Action Dancewear serves teams around the globe by providing dance uniforms and apparel to match specific requirements. Each dance team outfit is made from quality materials -- bringing our customers the finest cheerleading uniforms, skating team apparel, pom pon squad apparel, gymnastics team apparel, and other costumes.
Click HERE or Call toll-free (877) 865-9657
Below are some awesome dance team uniform makeovers, starting with an interesting cheerleading uniform.
Cheerleader outfits...
Before:


After: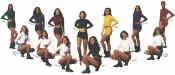 <Click here to Shop for these Team pieces>
---
We can energize your team Today
Team Discounts & Professional counseling (877) 865-9657